If you need full house electrical re-wiring, Service Panel Upgrade, Sub Panel Service, Service Panel Replacement or Service Panel Repair for home or business contact your Trusted Mount Prospect Electrician. Our licensed electricians offer panel upgrades for residential and commercial buildings. One of the most common requests from our Mount Prospect's customers is 200 Amp service upgrades. We can assist you with pulling all the necessary permits before starting the work. If your panel is more than 40 years old it may no longer protect your home from overcurrents and short circuits.  We can upgrade your old fused panel to circuit breakers which are safer and easier to maintain. This is a great way to improve the resale value of your house! Typical panel preplacement job only takes us 1 day to complete.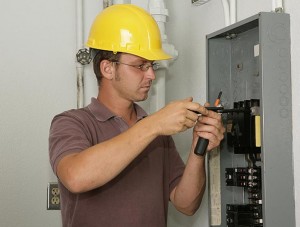 – Federal Pacific Electric panels and certain Zinsco panels
We advise our clients to upgrade if they are the owners of any electrical panel manufactured by companies like Federal Pacific Electric and certain Zinsco panels. Those are the two brands of panels that may have major manufacturing and/or design flaws that potentially put homeowners at risk. We advise our clients to upgrade if they have Zinsco or Federal Pacific Electric panels/breakers because they could be a fire hazard.
– Faulty Breaker or wiring
If you have flickering lights or lose power in parts of the house you may have a faulty breaker. Our licensed electrician in Mount Prospect can identify the source of the problem and replace the faulty breaker or wiring.
For customers installing 100 Amp Electric Vehicle or EV Charging Station such as the ones manufactured by Tesla we offer 400 Amp service upgrades. Contact us today via email or phone 773-575-8252 to schedule a free estimate for your panel upgrade.
We also do Commercial Panel & Sub Panel Electrical Service and Upgrades.